Beachhead
|
Duke (Arctic)
|
Flint
|
Roadblock
|
Scarlett
|
Snake Eyes
|
Stalker
Boxed Set Recap
G.I. Joe: Resolute - Stalker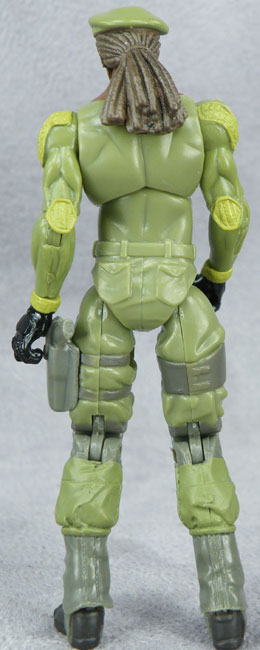 In my review for Flint, I admitted to having a love of the Flint character, something that started when I first got the figure in 1985. Well, I can't promise that my love for Stalker goes back quite to 1982, but it was pretty shortly thereafter.
My first experience with the G.I. Joe comic was reading the oversized Treasury Edition, which was a reprint of issue #1, and when my eight-year old mind wasn't being blown by the fact that bad guys were actually dying and bullets were actually being fired, I was loving the instant charisma that all of the characters seemed to have, and none moreso than Stalker. Back then, in that book, Stalker basically filled the role of "Duke" as the take no prisoners field leader, who swooped in on his jetpack, scattered grenades and kicked all sorts of ass. I had an affinity for the character right then and there.
As I followed the Marvel Comic along, for obvious reasons, my love of Stalker just grew. He was so intertwined with Snake Eyes and Storm Shadow, yet because he was a fringe part of their story, he didn't suffer from the same rampant over-exposure as they did.
However, he still ended up in the middle of all of the coolest stories. The Joes first meeting with the Oktober Guard... the jungle mission to rescue Dr. Burkhart (the second time) where we first really meet Recondo. The ill-fated mission in Borovia. Any time the Joes needed a down and dirty "snake eater" Stalker got the gig.
Yet, even with that, he never really has become a focal character going forward. Sure, he's had his appearences here and there, and I think over the years he's gotten a bit more attention, but nothing close to the level of some other characters. Because of this, I was thrilled to see him get some serious screen time in G.I. Joe: Resolute, especially as part of the awesome infiltration team of Gung Ho, Roadblock, and Beachhead. Of course, it also helped that he had a slightly new look, and one that I really latched on to.
Sure, it was just some dreadloks, but for whatever reason his "look" really called back to the Sigma 6 style in my mind, and I loved those elements. Some fans complained, certainly, but by and large I think his new longer hair has been embraced, and because of that, Hasbro elected to sculpt a new head for him for this set. Thank God they did.
Not only did they sculpt a new head, but they sculpted an awesome new head, with the same gritty determination that Stalker has had over the years, the same trusty beret, and a head full of long, thick dreadlocks that immediately define the Resolute style.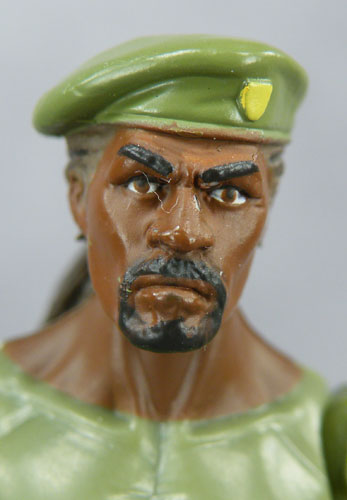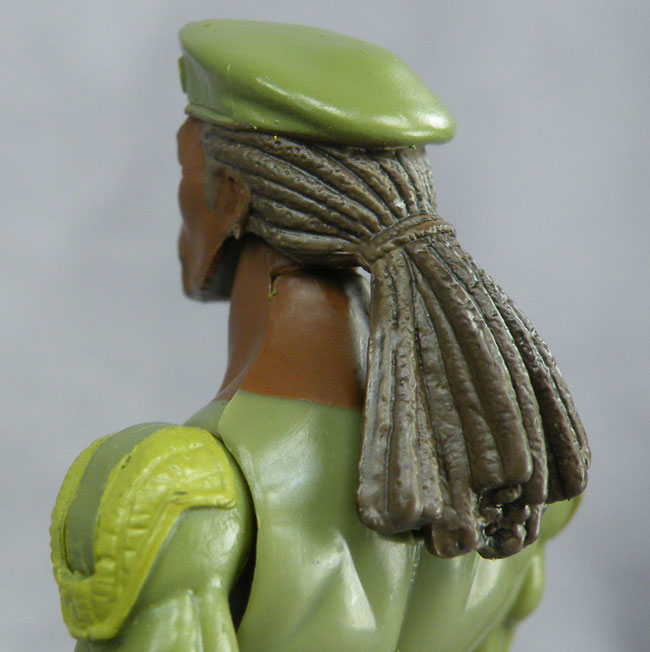 The rest of the figure is a bit of a departure from some of the other Resolute offerings, but only a bit. Instead of Duke's body all the way down, he uses the top half of Resolute Snake Eyes for a slimmer, more streamlined look. A very effective parts choice. His legs still belong to Resolute Duke, however, and while that does lead to a bit of mis-proportions, I still think it looks great and blends him in nicely with the rest of the Resolute strike team.
Hasbro (or Titmouse, more likely) elected to avoid complicated camouflage schemes, instead giving Stalker a green uniform with the right hints of brown, and this look translates to toy form nearly perfectly. For whatever reason, the shade of green they used just accentuates the tooling here, and I find myself really enjoying how this toy looks. No specific reason, there's just a strange sort of bright green appeal.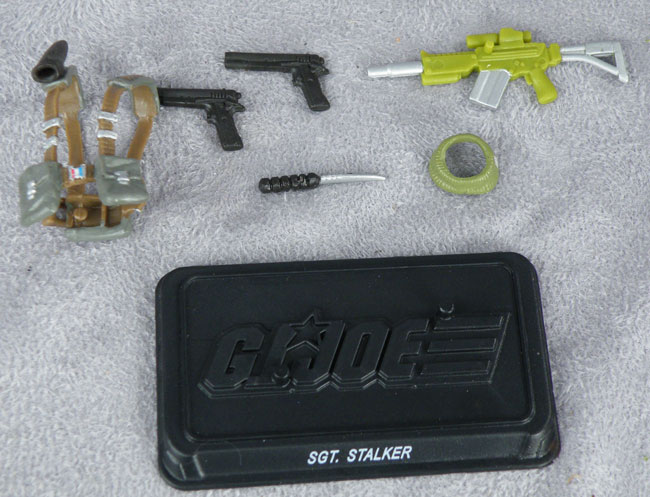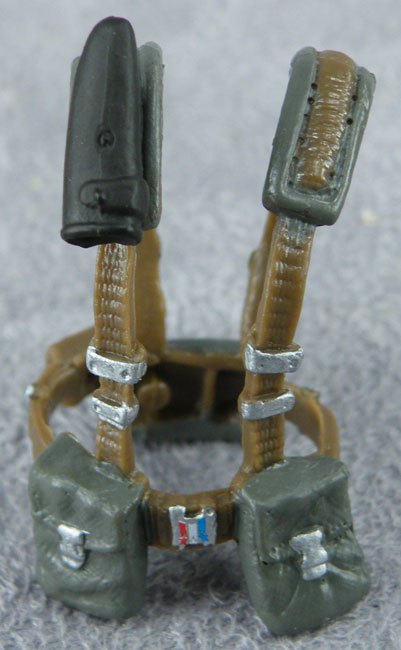 From an accessory standpoint, Stalker comes with some newly tooled webgear, as most of the Resolute guys do, and like the other figures, it's great. Granted, the knife on his right shoulder is a bit oversized and looks just a little out of place, but by and large, the webgear is effective and nicely sculpted.
Like Beachhead, his Army Ranger partner, Stalker has that secondary "collar" which hooks under his chin that extends his shirt into more of a Commando style sweater, another smart move to avoid investing too many extra tooling dollars.
For his weapons, Stalker is toting around a version of the Resolute assault rifle, which is a bit on the bright green side for my liking. It would appear that they were trying to mimmick an animated "feel" to the weapon, but it went a bit bright, and I'm not sure it translates really well here. The pistol rounds off his assortment of weaponry nicely. Nothing really new and exciting beyond the new webgear, but a very nice look, all told.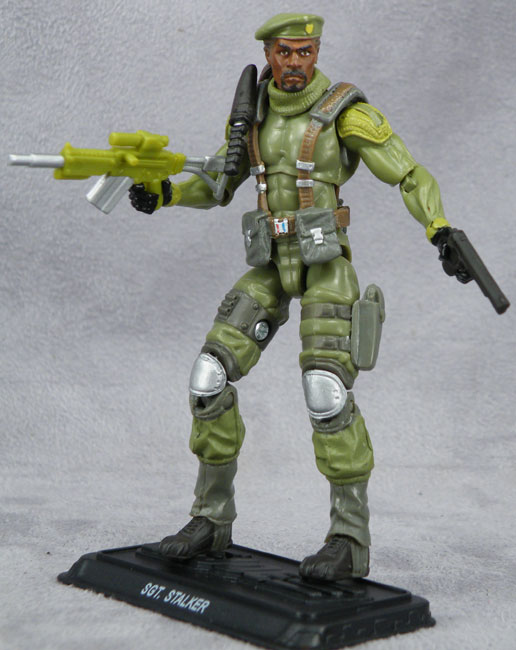 Like many of the other Resolute figures, I'm impressed at just how much mileage Hasbro has gotten out of their tooling library. Whoever came up with the idea back in 2007 to start using more standard "bucks" and to build on them with rubber webgear and secondaries deserves a big time bonus. Sets like this simply would not have been possible without concepts like that, and it is certianly clear just how far Hasbro design has come over the past couple of years just by looking at the differences in sculpting detail, webgear "fit", etc...
Because of his unique new head, Stalker was a character I was worried about getting dropped from these sets. I'm certainly psyched to say he is in here, and not only is he here, but he's done well. He's a relatively simple, yet elegant figure that fits the Resolute mystique, and even with some minor changes, he ends up being a fantastic addition to the Resolute cast of characters. A definite winner.
GRADE: