Ripcord (Jungle Assault)
Even though I was lukewarm about Wave 5 initially (except for the unbelievable City Strike Snake Eyes), I was still fairly enamored with the Jungle Assault Ripcord. While I always loved the science fiction elements of G.I. Joe, there's something to be said for the straight-laced military stuff, too, and in my mind, this version of Ripcord has that in spades, yet also still manages to tie nicely into the movie universe.
While some of the figures that come out with reused tooling have a pretty consistent amount of the existing parts, Ripcord as a somewhat scattered assortment of parts already seen elsewhere. He appears to have Shipwreck's torso, Desert Ambush Duke's arms, and Dusty/Pit Commando's legs, which provides a very interesting combination of different parts. I was actually pretty surprised that he has the Reactive Armor torso, I thought it would be a lot more generic underneath the flak vest. The surprise, though, was actually a pleasent one, as I think it's a pretty interesting look even without the vest. With the Desert Ambush Duke underneath his large vest, he looked kind of silly without his vest on, at least Ripcord looks pretty cool in either configuration.
As an added bonus, I've seen lots of folks complaining about the fact that Duke has his basic desert gear military version, but there isn't a Ripcord that matches it...well, this one certainly isn't perfect, but I think it works pretty well in a pinch and looks cool on display next to the Duke.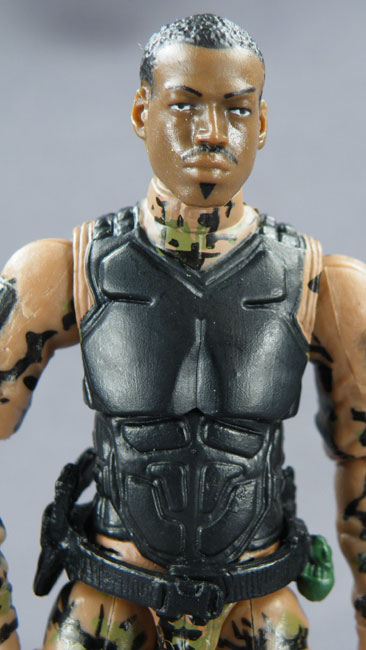 So, yeah, even with all reused tooling I think that Ripcord is actually a very cool figure with strong military elements yet it also ties in really nicely with the Rise of COBRA movie theme, too. The camouflage pattern is also very nicely done as well, with some fairly detailed digital camo, yet also a nice amount of black trim and overlay with the armor, belt, and other various trim.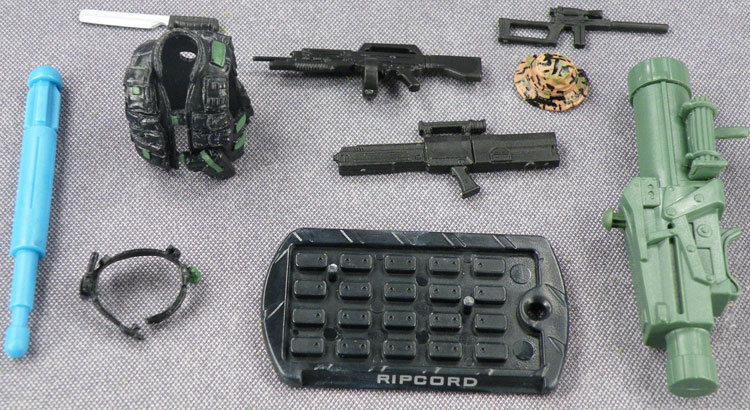 As with Duke, Ripcord comes with an allotment of reused accessories, though to be fair, a pair of them only came with the Resolute Baroness figure that is still in unreleased state. The Pit Commando vest is a terrific flak vest with some awesome detailing. I love the pistol holster and the assorted green trimming. Along with the vest, he has the boonie hat from the same figure painted up in matching camouflage.
From a weapons perspective, he comes with the great looking machine gun and silenced pistol that initially came with Resolute Baroness, and the larger gun that came with Agent Helix, too. Helix also came with the same knife/machete that Ripcord sports, and I really like how he looks holding the blade. It looks very natural.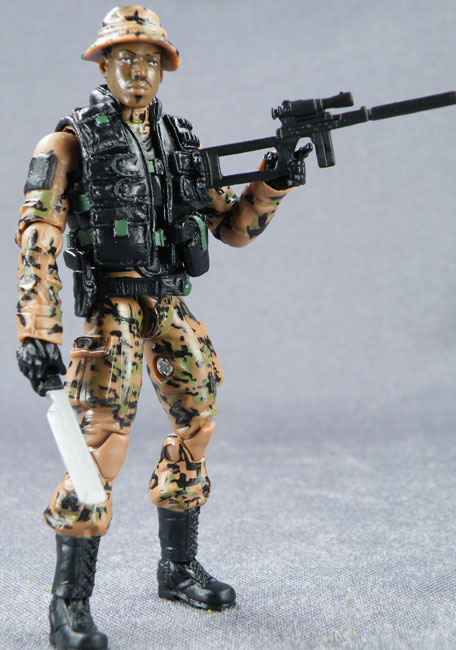 Even though the knife handle looks great, I do find myself a bit disappointed with the way the hands are contoured and sculpted with this figure. On Duke it's not so bad, since his M4 machine gun is sculpted to fit that hold pretty well, but on Ripcord, it's very hit or miss. The angle of the wrist makes him look pretty natural holding the weapon down, but trying to get him in a firing pose, especially with the pistol and larger machine gun can be pretty tricky. Of course, the hands can be swapped out if you want to, but straight out of the package, I'm not wild about how the hands are posed. The sculpted trigger fingers are very cool, I do like that part of it, but the angle is just hit or miss.
Really, though, that's about one of the more minor complaints. The look, the playability, and the parts use is all really nice, and I think folks could do a lot worse than this figure. Especially for all of the fans so married to the military style, I think you'll find some really cool stuff here, definitely give it a shot.
Buy this figure at Big Bad Toy Store!
GRADE: