Scarlett (Desert Ambush)
The "First Lady" of G.I. Joe deserves her place in the spotlight, and thankfully she's getting it with The Rise of COBRA. Scarlett was almost a dirty word in the Sigma 6 days, and then her treatment in the Anniversary line was so hit or miss that it was tough to consider any of them wholly successful. Even her first Rise of COBRA figure suffered from some serious faults, but those faults, at least in my opinion, appear to be pretty much rectified with this release!


First of all, Scarlett gets all decked out in her familiar Reactive Armor just in time for an apparent Desert Ambush, and she looks really, really great. I was a bit dubious when I first saw the uniforms for the upcoming Rise of COBRA film, considering they were all fairly similar with only minor cosmetic differences here and there. How would those uniforms all translate into toy form and still look different enough to appeal to a wide audience? Well, I think Hasbro has done some great work.
Even though the uniforms maintain a pretty thoroughly dark look from head to toe, the use of weathering and detail paint work has been absolutely spectacular. The level of detail throughout the armored plates on Scarlett's uniform is just amazing.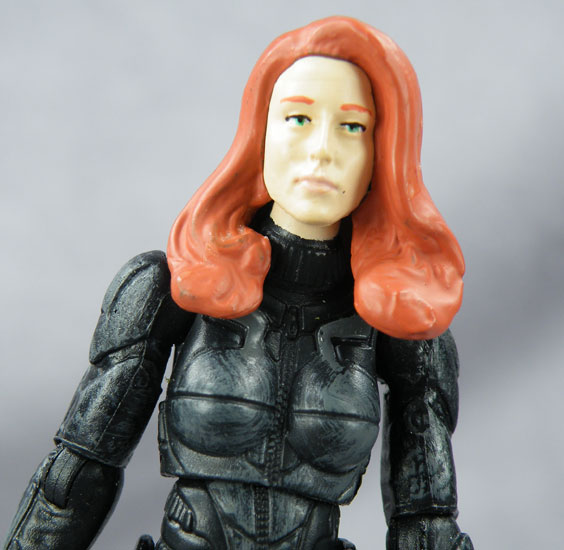 Perhaps the most necessary alteration, though, was with the head sculpt. That pony-tailed look from the first version of Scarlett just had to go! Not that I mind that hair style on her, but for whatever reason the sculpting was just off or the face scanning machine crapped the bed...I don't know what it was, but that figure looked nothing like the very beautiful Rachael Nichols. However, the head on this figure is a remarkable likeness that brings out the Scarlett character quite well, even with a somewhat different look.
One good thing about this Reactive Armor stuff is that it is so sleek and slender that it ends up giving the figures some GREAT range of motion, which is high on my list of desirables. Scarlett here moves and poses in just about every way possible, can hold her weapons quite well, and feels amazingly sturdy and solid. The different layers of body armor also help mask the seams of her articulation quite a bit, so the joints aren't quite so out of place.
Another nice touch on Scarlett is that she actually has a holster for her weapon! Hasbro seemed like they were on the verge of perfecting this technique with the Anniversary figures, but suddenly seem to have lost the urge, as many of the Rise of COBRA figures appear to be holster or sheathless, which is a shame. But Scarlett is an exception.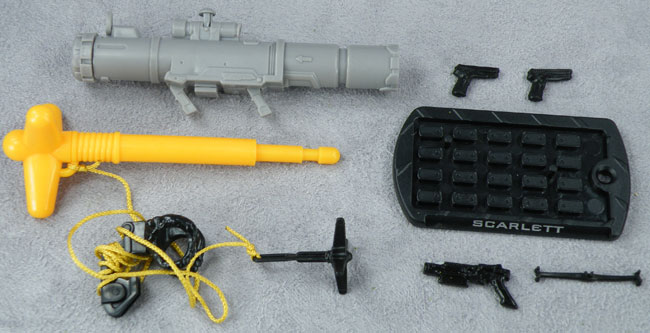 Honestly, as I was breaking Scarlett down for this review, it felt like she came with a TON of gear. But when I sit back and look at it, she really didn't. Her huge spring-loaded rocket grappling hook launcher takes up a ton of useful real estate in the package, and it seems like it could have been scaled way down, yet managed to retain its functionality. Honestly, I'm not quite sure what to make of that whole contraption anyway. Is the firing missile a second grapple? Who the hell knows.
I do kind of like the shoulder harness and zipline, though, that's a very neat touch, especially considering how Scarlett appears to use it in many of the trailers.
Besides that, all she has is her battle stand, two-piece crossbow, and two pistols (that are the same as the one that came with Stone). Not a whole lot of gear, honestly. The Crossbow is the definite highlight of the allotment, with two pieces that actually fit together surprisingly well, and both parts also fit into the sheath on her hip, which really rocks.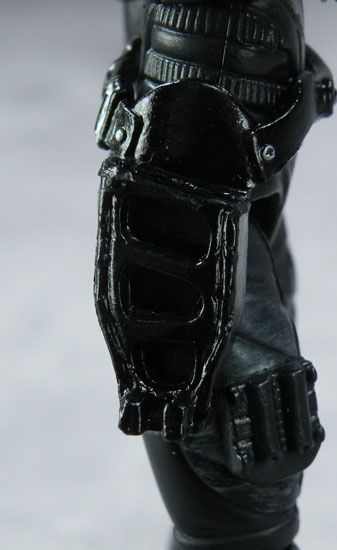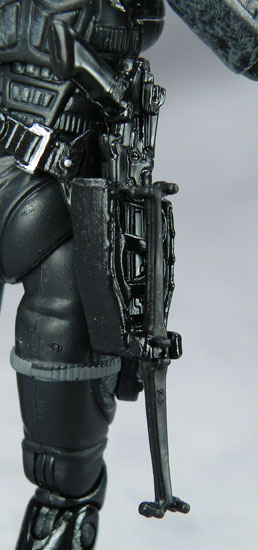 This is really an amazing figure. If some fans could get over the whole Reactive Armor issue and their problems with the movie as a whole, I think there will be lots of cool toys for even the long timers to thoroughly enjoy. Sure, this version of Scarlett doesn't have green tights and a tan leotard, but she's a pretty bad ass looking 21st Century soldier all the same, who deserves some credit. Great sculpting, awesome articulation, and incredible paint apps all come together to give you a very fine figure who deserves a spot in your collection regardless of which era you come from.
Buy this figure at Big Bad Toy Store
GRADE: