Target Exclusive Past and Present Rockslide w/ Snow Job
I don't think its news that I have a love of arctic themed figures and vehicles that is as strong as Justin's ambivalence towards them.  For some reason the arctic theme just clicks with me.  So when Target released their exclusive Past and Present set with the ARAH Polar Battle Bear and the Rise of Cobra Rockslide, well it was only a matter of time before I added it to my collection.  I only saw these once at regular price and then they disappeared for a few weeks until they recently appeared on clearance.  I would have gladly paid full price for the set had I been a little more flush the first time I saw it but getting it for half price made it even sweeter.

The packaging is unique in that its a really long box.  The two vehicles and figures are showcased in window packaging with artwork on each side relevant to the timeframe of each.  The Polar Battle Bear (I'm not calling it Rockslide no matter what Hasbro puts on the packaging) has the familiar explosion backdrop and the Rockslide has the green Rise of Cobra style design.  On the end flaps of each there is a cardart image of the vehicles.  The Battle Bear has an error that I'm not sure how to explain.  Instead of featuring Snow Job driving the Bear they clearly show Frostbite at the wheel.  I'm not sure if this is old art that was updated or a new piece.  If its new then whoever checked the art made a big mistake here.  Don't get me wrong, its a beautiful piece of art, its just wrong for the product in the box.  There are also filecards for each on the bottom of the box and again the Snow Job card has Frostbite in the picture incorrectly.

But what about the toys themselves?  Well they are pretty awesome.  I'm going to divide this into four paragraphs, one for each figure and vehicle.  I'll start with the classic.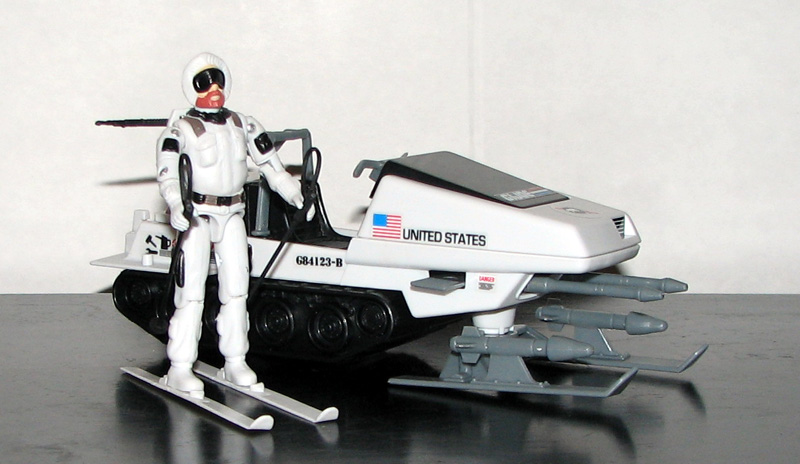 The first batch of Joes I distinctly recall having as a kid are, Rock 'n' Roll, Snake-eyes, Flash, the FLAK Cannon, RAM cycle and the Polar Battle Bear.  The Battle Bear was one of my favorite vehicles and was always present in my bedroom battles.  I understand this version is made from the 2000 era Rockslide molds and honestly I don't see the difference.  Granted its been 25+ years since I had my Battle Bear but its just as I remember.  It comes assembled in the box but luckily they didn't apply any stickers.  If I can't put it together then at least I get to put the stickers on myself, insuring they are where I want them and applied straight and even.  Everything I remember is there.  The removable missiles on the skis, the side-to-side moving cannons, the removable engine cover and rolling wheels under the treads.  This is one of the classic vehicles that I don't have any problem displaying next to the modern stuff due to its incredible detail.  Its a simple snowmobile with weapons added and it looks great.  Its made of sturdy modern plastic and the colors and stickers are all well done.  The Battle Bear is the reason I picked up this set and its everything I remember and more.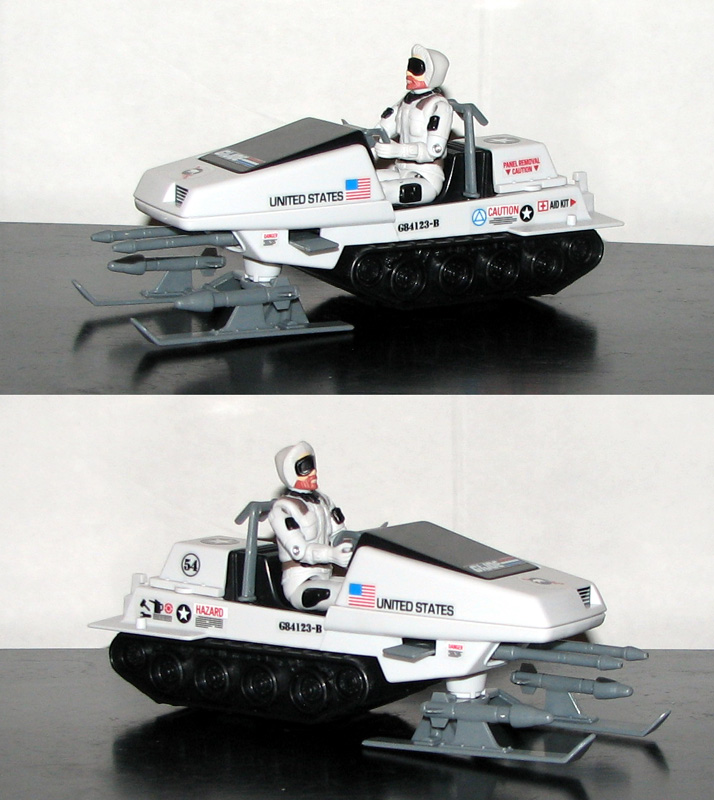 While the vehicles may be the main draw for this set, the figures are not lacking.  To go with the ARAH era Battle Bear we get Snow Job.  I never had Snow Job as a kid.  Frostbite was my go-to arctic driver (which is why I don't mind the error in the box art so much).  Snow Job is a classic ARAH O-ring figure and looks and feels like it.  His lower arms are molded in a softer plastic so there's no danger of snapping a thumb.  He's molded in a soft flat white with a few paint applications.  Compared to the 25th style figure he's quite bare but as an homage to the ARAH figure he seems to be pretty accurate.  I don't know ARAH parts at all but I can say this doesn't appear to be the original tooling.  It still evokes the classic look well though.  His O-ring is really tight on my figure, making him arch his back and hard to stand up straight and his joints are really tight.  If it weren't for the softer plastic I'd worry about breaking his limbs but with some gentle coaxing they move freely.  Surprisingly Snow Job comes with his original accessories.  He's got his skis, ski poles, backpack and XMLR3-A laser rifle.  These all appear to be vintage tooling but it looks like the rifle is the newer 25th version, no surprise since I can't imagine them trying to find the tooling for this 25 year old accessory when the new one is readily available.  As a Snow Job I love this version of Snow Job and plan on putting him in with my Tanks for the Memories arctic figures.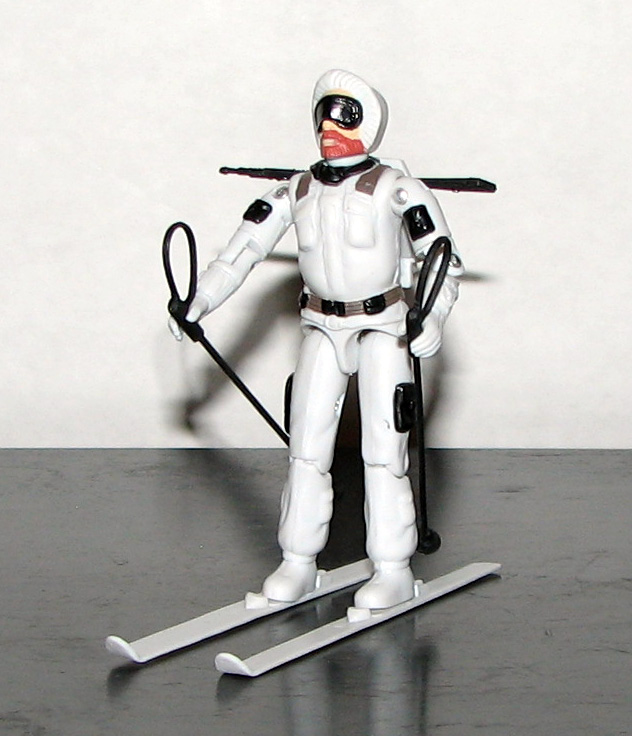 The "Present" side of this set is the Rise of Cobra Rockslide.  A simple repaint of the Alpha Wave version, this vehicle has all the same detailing as the first version.  Molded in white with gray camo this version matches the Battle Bear.  I honestly didn't think the paint difference between this and the first release was that big until I got them side by side.  Then I saw that the white just looks so much more arctic.  I like the first version but this new white one is something I'd consider army building.  Other than the paint scheme the only other difference is the inclusion of a First Aid Kit sticker with this new version, a nice tie to the Battle Bear.  I really love this vehicle.  The skirted Snow Job figure sits in it fairly easily and its great design.  Even the integrated spring-loaded missile launchers look good (without the missiles of course).  I'd definitely like to add a couple more of these to my arctic army.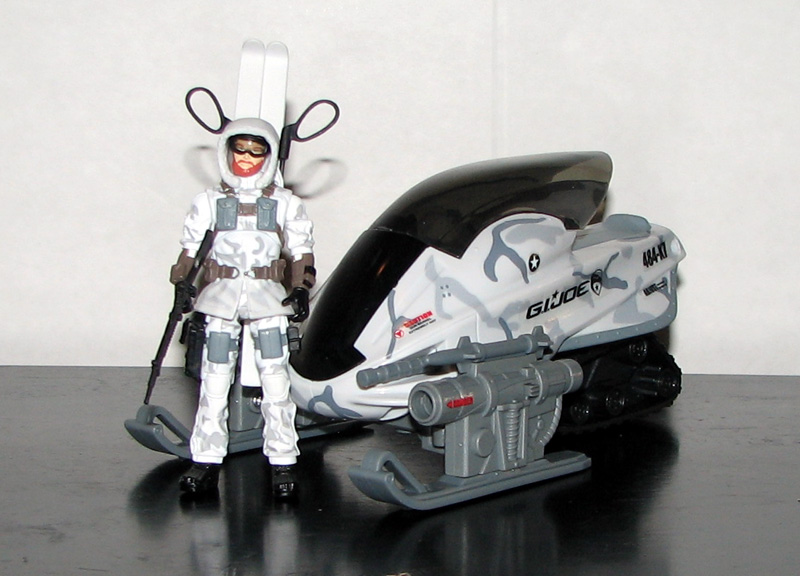 The included Snow Job figure to go with the Rockslide is the same figure we've seen before.  Its the 25th Anniversary mold and accessories and its still one of the best figures from that line.  He's painted in similar camo to the first Rockslide figure only with brown accents instead of green.  He looks good but there's nothing new about him.  Of the four pieces in this set, this Snow Job is the most "throw-away".  But he's included to pair up with the ARAH version and I can always use another arctic figure.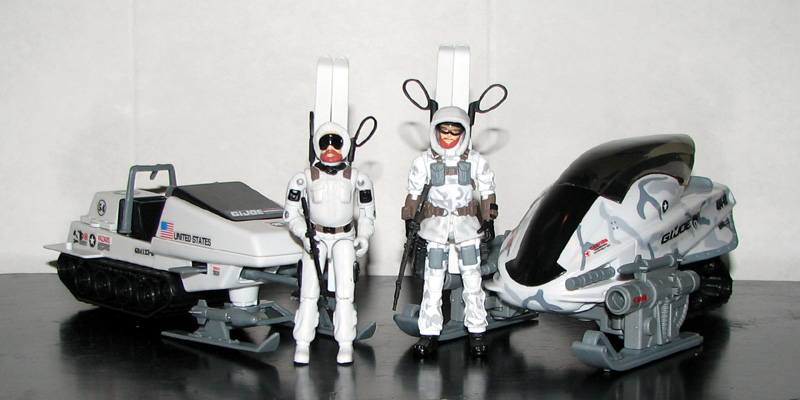 As I mentioned at the top, this is a set I had planned to get.  At full price I think its a good deal and worth the price.  But on clearance, I see no reason not to have this.  It has something for most every collector, a nice vintage style figure, a vintage vehicle that can be used with modern figures and a modern figure and vehicle.  I'm really happy to have this set and I think you would be too.  I give it 4 out of 5 stars.
GRADE: