2009 Canadian JoeCon Exclusive Set
I've been a long time fan and follower of the Canadian G.I. Joe Convention, back a few years when it was simply the Canadian JoeMeet.  I still remember seeing JoeCanuck for the first time, and thinking "hey, neat, they did their own exclusive figure" but in all honesty, it didn't go much beyond that.
Times change, eh?
As plans went on for last years Canadian JoeCon, I had a feeling that they were stepping it up a notch for 2009, but even I would have no idea how many notches it was being stepped up…when the final revelations happened, to say I was impressed would be a massive understatement.
Like the United States borne G.I. Joe Collectors' Club, last year, the Canadian JoeCon guys also stepped away from the traditional "o-ring" format Joes in dipped their toes into the 25th Anniversary format…but unlike the GIJCC, the guys up North were lavished with praise while the GIJCC was assaulted at nearly every angle.  To me, it's not necessarily the format of the figure, it's what you do with it, and many folks felt like while the GIJCC was simply rehashing a set from 2002, the Canadian JoeCon guys were actually coming up with some pretty cool new concepts.  And I find myself in agreement.
Chacal Noir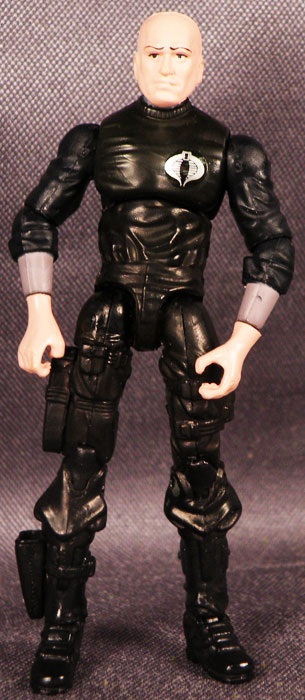 Chacal Noir (Black Jackal for folks who do not speak Canadian *shifty* ) is a Cobra scavenger, and really uses a fairly basic formula.  If you dive into it, it's fairly obvious that the JoeCanuck folks had a fairly limited pool of figures to pull parts and mix and match from, but they managed to do it very successfully.  Chacal Noir is essentially a 25th Anniversary Steeler with the Serpentor head on it, but colored in black and gray, and the results are honestly surprisingly cool.  Simple changes like swapping the webgear around separate the figure from the original parts, and make it stand out on its own rather than as a simple dye job on an existing figure with a heaping helping of imagination.
Of course, it also helps that the head sculpt really doesn't work that well for Serpentor…  I think it actually speaks volumes for the Canadian guys, but now when I see that head, I say "heh… Speed Metal has Chacal Noir's head"…  Serpentor no longer even occurs to me.
The Cobra scavenger comes with the familiar pistol and knife that Steeler initially came with, and also totes around the removable rucksack that originally was released with the Armadillo…a sign of his scavenging ways.
But as always with me, it's the personality that sells me on a character, and on a figure, and thanks to Larry Hama's involvement, the well written filecard only serves to cement this character's place in my G.I. Joe universe.
Granted, these 25th Anniversary format figures don't allow for the same kind of part-swapping customization that the old school o-ring guys do, at least from a mass production standpoint, but I think for the limited pool they had to pull from the Canadian JoeCon guys continue to do great work inventing new concepts and building on their already impressive cast of characters.  Cobra is quickly amassing quite the strike force North of our borders, and Chacal Noir is a great addition to that, and was a very fun way to start these reviews.
Dead-Eye w/ Backstop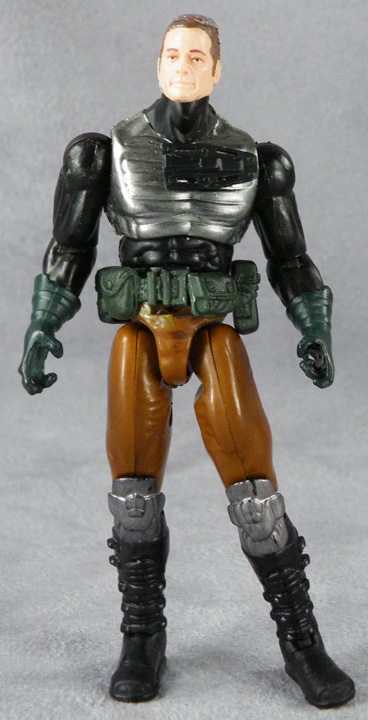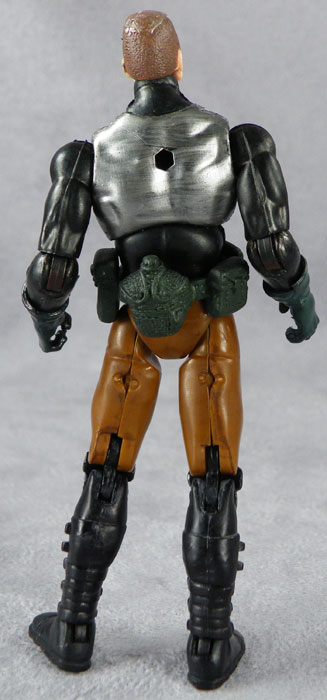 As the first Canadian G.I. Joe character, you just had to figure that Backstop would be the unofficial mascot to the Canadian JoeCon, but to this point that hadn't really been the case.  However, it had to just be a matter of time before they would dip into the Backstop well, and it only made sense that the first existing character the JoeCanuck guys did was Backstop.

Originating from Quebec and sporting a more than questionable outfit the first time around, Backstop piloted the Persuader cannon-on-wheels, and was probably more well known for his  bright yellow pants than he was for anything else.  But as a kid, I loved Backstop.  Sometimes it's the minor things that really make a character shine, and while today accessories are pretty interchangeable and meaningless, back in the 80's they could make or break a figure.  Even though Backstop came with the mostly forgettable Persuader, his awesome helmet and crazy pistol are what sold me on him back then.  It made a big, big difference, and immediately, because of those two accessories, this was a guy that I really liked.

Now if you'd told me you could get a decent Backstop figure using 25th Anniversary parts, I'm not sure I would have agreed.  He had some very unique design elements, and isn't really a character that can be cobbled together with other parts…so the Canadian JoeCon guys kind of had their work cut out for them, especially with such a limited pool of parts to pull from.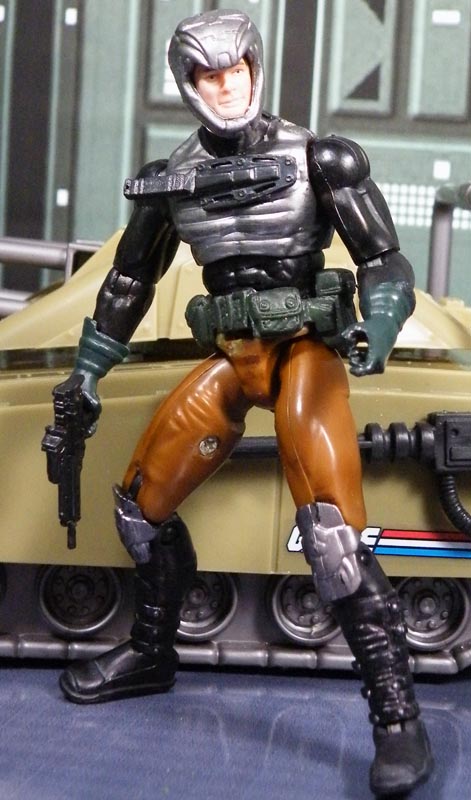 I'll admit off the bat, the 25th Anniversary Serpentor is not one of my favorite figures, and I certainly wouldn't have pictured it as the source for an updated Backstop, but it actually works remarkably well.  The helmet obviously is a bit different, but very close in style to the original.  Serpentor's textured upper torso also pays nice tribute to the layered armor that Backstop wore back in the day as well.  Simply adding a knife sheath and knife to the chest also replicates that feature nicely.

The darker colored pants are certainly more in tune with a military aesthetic than the bright yellow ones were, and manage to look great even with Serpentor's somewhat bizarre textured kneepads.  It obviously took a hefty amount of creativity to come up with this unique combination, and it actually works a lot better than I would have thought.  It captures the familiar aspects of the original Backstop, yet is slightly different and new.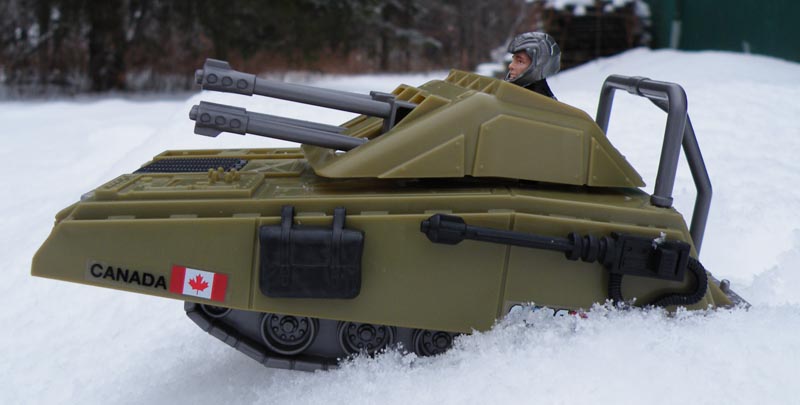 But what good is a vehicle driver without his vehicle, especially one as unique as Backstop?  Well, again, they have an answer for that using the 25th Anniversary Armadillo tank, but adding a very neat Backstop-themed twist.  Taking the laser cannons from the Air Chariot and attaching them to the Armadillo is a nice change that gives the vehicle a bit more customization, but where the brilliance really comes in is with the simple application of the "Dead Eye" sticker on the back.  This sticker was also present on the Persuader as well, and again, it's a very cool tribute to the past, and manages to give Backstop a vehicle to use in the modern day as well.  Sure, some suspension of disbelief is required to separate this thing from the more well-known Armadillo, but it's not like Hasbro hasn't been doing it for years on their own.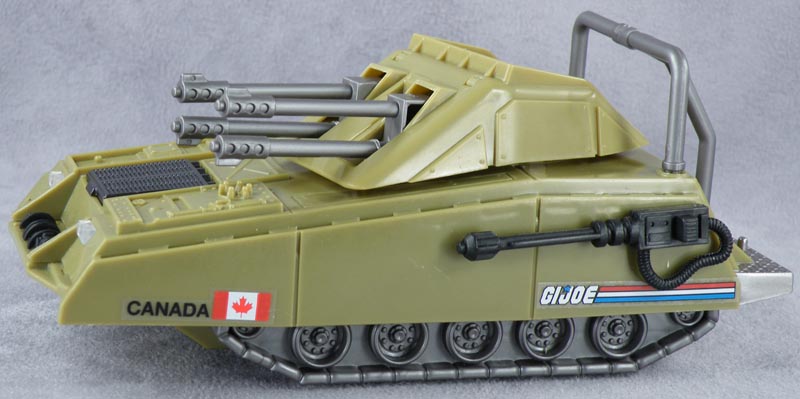 In 2009, the Canadian Joe Con really expanded and branched out.  They went from a single figure to a full blown boxed set, and had quite the mountain to climb with the resources they have.  By and large they did an admirable job, and even with the very specific selection of parts they had to work with, we ended up with a very nice set, and Backstop with his Dead Eye are no exception.  Very well done.
Cobra HATE w/ Frostback Trooper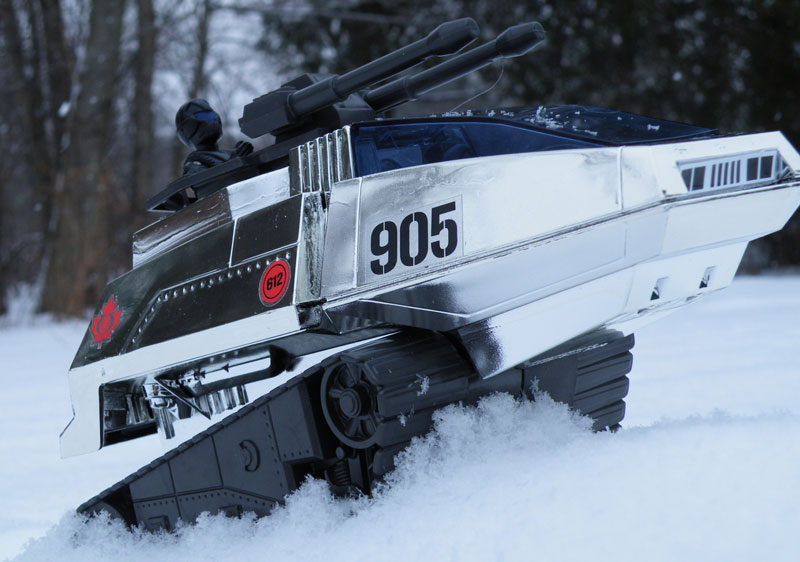 Without a doubt the flagship of the Canadian JoeCon set was the HATE tank.  It first grabbed the eyes of the fans through a clever viral marketing campaign, and while I thought it looked pretty neat in those initial pictures and videos, it looks 100% cooler in person.

We all know what sorts of guidelines the JoeCanuck guys have  and what hoops they have to jump through to get these exclusives in line for their Convention, and the fact that they can find ways to "mass produce" items like this is very remarkable.

Look through the years…how many different HISS Tanks have come and gone?  What other new directions can they possibly be taken?  Well, the Canadian JoeCon definitely went in a new direction, and the end result is really, really nice.


Normally I'm not much of a chrome guy…Sky Patrol didn't do much for me, but then again, I've never had any Sky Patrol vehicles in hand.  Now that I have the HATE Tank in hand, I'm starting to think that maybe these Sky Patrol things would be pretty freaking sweet.  If they're anywhere near as cool as the HATE, I'm interested.

The chrome finish is absolutely beautiful, and tying it into the Sky Patrol technology is awesome.  Obviously the legendary design of the COBRA tank is an immortal part of the G.I. Joe mythology, but seeing it in this new chrome look really adds a new dimension.  But it's not just the vac-metal process that makes this new HISS so cool, the blue tinted canopy is great (and ties into Black Ice very nicely) and the stickers only finish off the product perfectly.  That's one of the biggest positives I can give these Canadian JoeCon exclusives…the guys behind them take their time, and pay close attention to every little possible angle and part of these sets.  They don't just slap a sticker sheet in there and call it a day, they pay great attention and care to every aspect of the set, and really think it through…and honestly, it really shows.  This is a fantastic addition to my collection, and deserves its spot amongst the top as the focal point of the Canadian JoeCon offerings.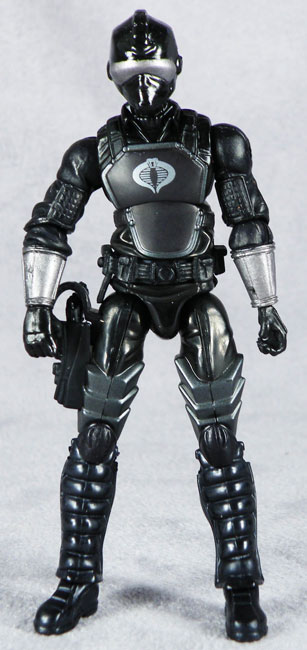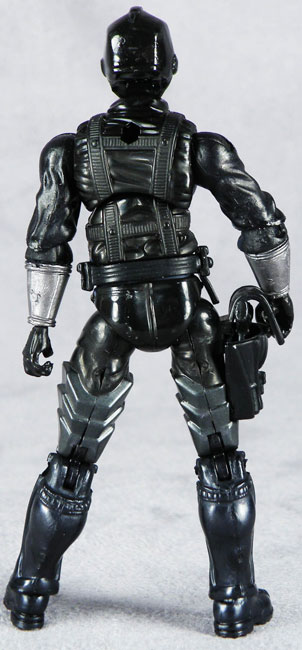 Of course a great new vehicle deserves a great new driver…and the Frostback Trooper fits that mold as well.  While the figure is pretty much a darker dyed version of the HISS Driver that came with the HISS initially, the color came out very rich, very nice, and like the tank itself, ties in well to the other figures in the Cobra hierarchy from the Canadian JoeCon sets.
A little more blue might have mixed in with Black Ice a bit better, but then it would have looked more like the initial release, and honestly, this still looks very, very cool, and he fits nicely in the HATE Tank, too.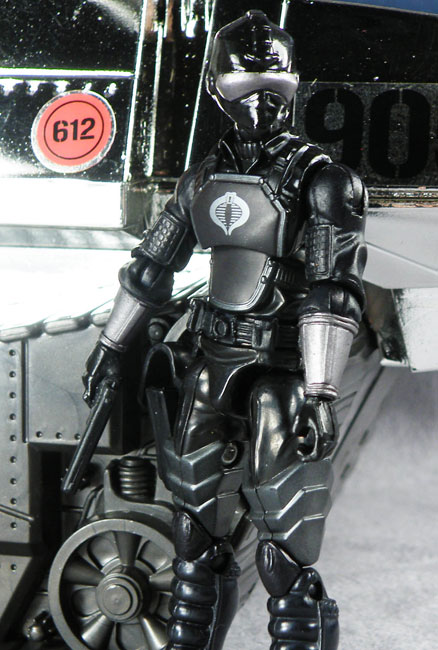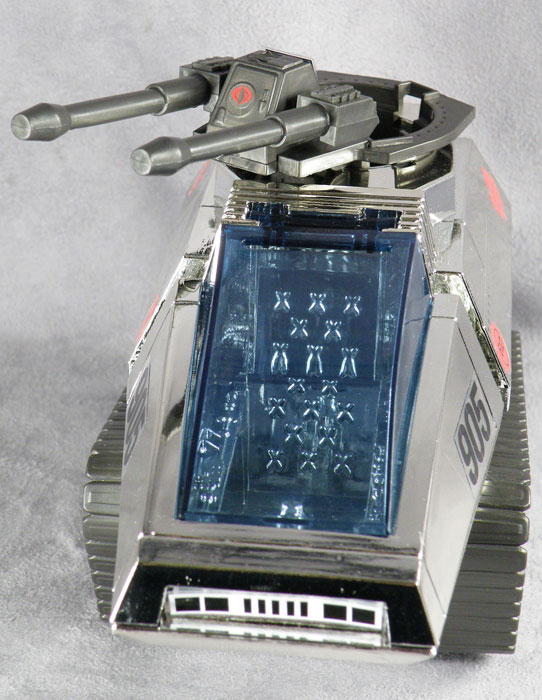 In 2009, the Canadian JoeCon took a leap…a very big leap.  Jumping from singularly produced customized vintage style figures straight into a full-fledged boxed set new style, Hasbro sponsored offering, they had their work cut out for them, and had a lot of work to do to make the set unique, interesting, and still relevant to their global region.  Amazingly, they managed to do all of that very well, and make a set that is intriguing, consistent with a fun story, and starting a new chapter in G.I. Joe history.  If you can get your hands on this set, I definitely recommend it.  Even better, make plans to head North of the Border this year for the Canadian JoeCon, so you can line up for what's sure to be an awesome 2010 exclusive!
Presentation & Paper Goods
Throughout this review, I've touched on all of the figures and vehicles from the 2009 Canadian JoeCon exclusive set...a set that pretty much blew away all expectations from anyone.  But to me, it's not just about the figures in a convention set, it's all of the little touches.

So often it seems people focus so much attention on the toys, that the presentation and the little angles are often overlooked.  Thankfully, that was not the case for the set we got last year.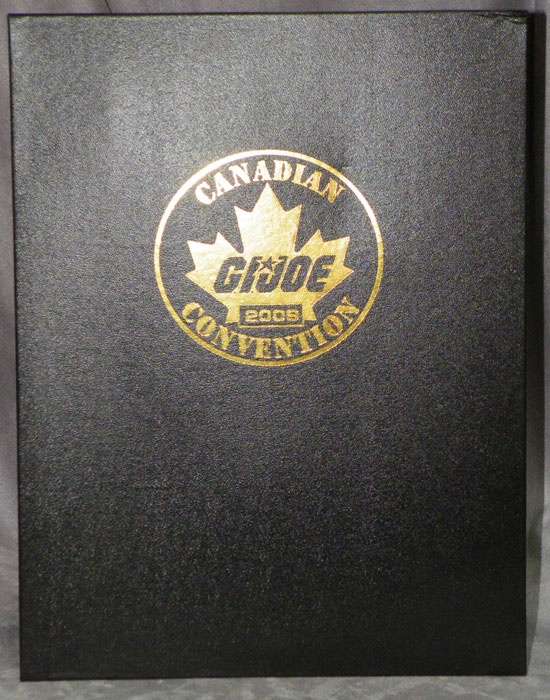 For the first time, the Canadian JoeCon Exclusive set featured a box, and it's an impressive box to say the least.  Thick material, great foam inserts and a striking gold leaf emblem on the front all make for some impressive presentation.  It looks professional and collectible, just as it should.

Each figure and vehicle is securely stored inside the box, but they also look fantastic that way, too, with some great custom-cut holes and nice orientation.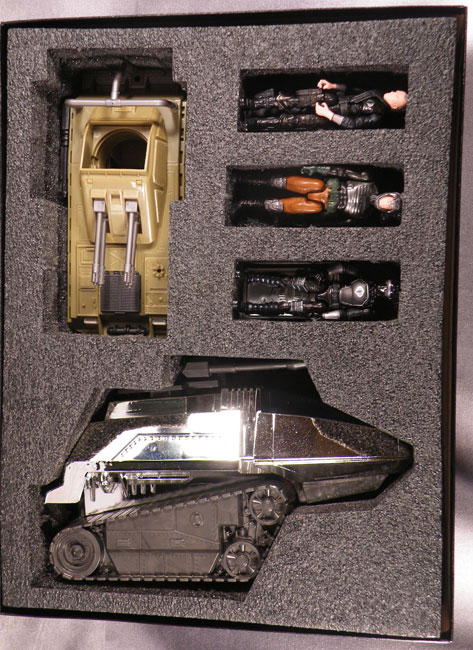 But the box wasn't really what impressed me the most when it came to the little touches last year.  In fact, some of my favorite things from the 2009 set were made out of paper!

The two sets of blueprints for the two vehicles in the set were just simply spectacular.  Absolutely meticulously designed, drafted, and produced, these blueprints look production quality, yet have the look and spirit of the Canadian updates.  They are crisp, clean, and feel like the blueprints of old, only they're for the H.A.T.E. Tank and the Deadeye.  I'm not entirely sure how Mike got them quite so professionally  done, but  all that matters is he did, and they look great.

Speaking of professional, we can also talk about the filecards.  In Canadian JoeCon sets of the past, the filecards were printed out and glued to cardboard to simulate the file card "effect".  Here, they are produced identically to the mass market release versions, and the quality definitely shows through.  Using the skills of Larry Hama on Chacal Noir, and rightfully giving JoeCanuck staff member "Scramble" a chance to write the bio for his favorite character Backstop (with Mike himself handling writing chores on the rest), the cards all read like official Hasbro released fare.  Well...actually they sound better.  These days Hasbro released fare is nothing to brag about.  Again, just a couple of nice touches that flesh out the story of the set very well.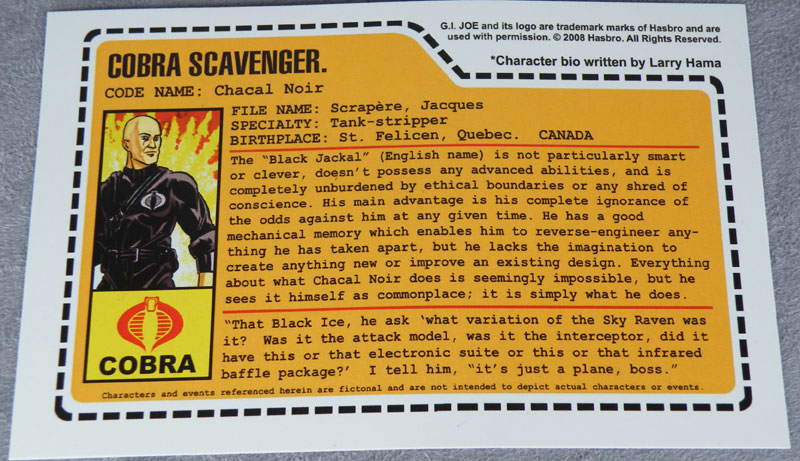 Last but not least, though, is the comic.  What an awesome way to tie in the Canadian JoeCon characters and the great little universe that they are weaving up in the great white north.  Jason Loo is a phenomenal artist, who crafts a fantastic story with his pictures, and this was an awesome finishing touch to a great set.  But of course, I have some selfish reasons for loving the book as well.  Ever since I was a kid, I had aspirations of being a comic book writer or artist, but obviously never really pushed myself that hard to make it happen.  Well, my work on the dio-story for the Canadian Collectors' Club newsletter last year was collected here in comic book form as well, and there's just something about seeing something I made bound and produced in an official looking comic that brings a smile to my face.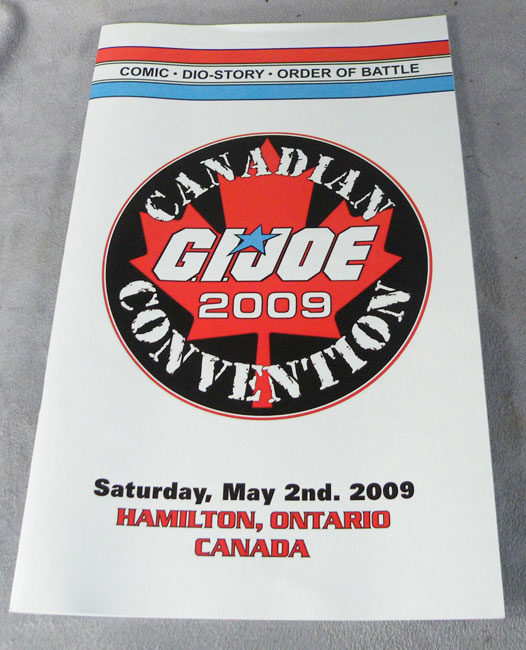 But not satisfied with merely including those two stories, you can also find an "Order of Battle" in this comic as well, with fully fleshed out dossiers of all of the Canadian JoeCon characters to date.

All told, it is one hell of a fun read, and it tops off a great convention set all too perfectly.

From the perspective of a fan, almost anyone can slap paint on a figure and call it an "exclusive".  But from what I've seen in the Joe community, there are fans out there taking real care to not just release something, but to build something.  To "create" something, and it's the little touches like the blueprints, the display box, and the comic that really make this convention set shine.

Of course the figures and vehicles were great.  But here it is, nearly a year later, and it's the comic that keeps drawing me back. And this is something they're not forgetting for 2010 either, as this latest comic tops everything else that's come so far, and really ties into the set perfectly.

Last year was a great one for the Canadian JoeCon, and I'm sure they'll have another terrific showing this year, too.  I, for one, can't wait!
For all of the details on the 2010 Canadian JoeCon, hit up CanadianJoeCon.com and to keep in touch with all of our brothers to the north, check out JoeCanuck.com as well.
GRADE: